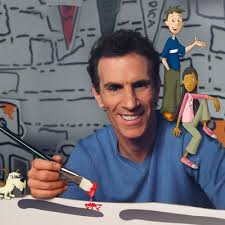 Trevor Romain "Inspiring Creativity in Children Around the Globe" on The Erica Glessing Show Podcast #5003
Inspirational children's author Trevor Romain gives us a glimpse into his brilliance on today's show. With more than 50 children's books published, Trevor travels the world sharing his unique messages of hope and joy with children of all ages.
More About Trevor Romain
Many people have dedicated their lives to helping children. Many people have made incredible impacts on children. But there are very few who have spoken to and listened to as many children as Trevor Romain. After an experience in the South African army, where he had an encounter with a badly injured child, he knew that one day he wanted to help to children who are hurting. A few years after that experience, and working in South Africa as a creative director at an ad agency, Trevor moved to the United States and his journey of helping children began. Trevor has been speaking to children and working with children for over 30 years. He realized he had a natural ability to connect with children when he volunteered to visit terminally ill children at Brackenridge Hospital in Austin. He quickly became known as the Doctor of Mischief, meaning he drove the kids crazy with his jokes and pranks, but at the same time giving them a trusting ear and hope for the future, whatever the future held. It was during these hospital visits that Trevor realized that adults sometimes tell children what they think they need to hear, instead of listening to what they are asking for. It was with this knowledge that Trevor wrote his series of best-selling self-help children's books. Some of them include, How To Do Homework Without Throwing Up, Bullies Are a Pain in the Brain, Cliques, Phonies, and Other Baloney, and What On Earth Do You Do When Someone Dies. Trevor has the ability to tackle some tough topics while keeping kids engaged with humor. The success of these books led to the formation of The Trevor Romain Company. The company produced an award-winning series of animated DVDs based on these books. The series has run on PBS, and the DVDs are used in schools all across the country. Head over to https://TrevorRomain.com for more!
More About Erica Glessing
Erica Glessing believes that when you tell your story, you change the world. Erica helps visionary entrepreneurs build their businesses with podcasts, and hosts a few podcasts including of "The Multi-Million Dollar Funnel Podcast" and "The Erica Glessing Show." Altogether, the shows she has built have been downloaded 500,000+ times (conservatively). She has 33+ #1 bestselling books (on Amazon and everywhere books are sold on line globally) and is at work on her next.