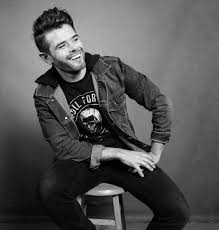 Phillip Andrew "Creativity & The Road to Emmy Nomination" on The Erica Glessing Show Podcast #4007
As the day begins, Erica received several beautiful messages from spirit to kick off the show including "Be the ocean, not the waves." Then she gets engaged with (no, not engaged like the ring silly, engaged like deeply enthralled) in a conversation with TV producer Phillip Andrew. He shares what lights him up, what inspires him, and how he can't help but help young people with messages of getting over the abusive choices he made as a young man. The choice of being sober in the bright lights of LA isn't always easy!
You can get more on Phillip Andrew here: http://PhillipAndrew.co
Follow him on Instagram: https://www.instagram.com/phillipandrewla/
Erica's quotation today actually stems from a page in a book by Toby Alexander about being the ocean! Not the waves, not distracted by minor things but staying in the bigger joyful being of you. 
And read more of Erica's Happiness Quotations here: http://HappinessQuotations.com