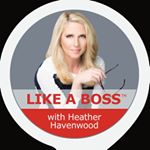 Heather Havenwood "Sexy Boss" on The Erica Glessing Show Podcast #3149
Every Tuesday I feature guests who turn it up, and today is no exception. You'll love the energy of this episode of The Erica Glessing Show. Heather Havenwood is a promotion genius! Go over and check out her national radio show "Like A Boss."
www.HeatherHavenwood.com for inspiration on getting your voice and messages heard!